Waterfowl in general have wandering, inquisitive natures and are easy targets for the many predators and other hazards which abound in the wild. To be able to maintain and enjoy a collection, whatever its size, you will need to provide secure fencing. We often hear from householders who move to a property with a body of water and they wish to add birds. They will be adamant that there are no foxes, but there is nothing more attractive to predators than a confined ready meal. The foxes will surely come.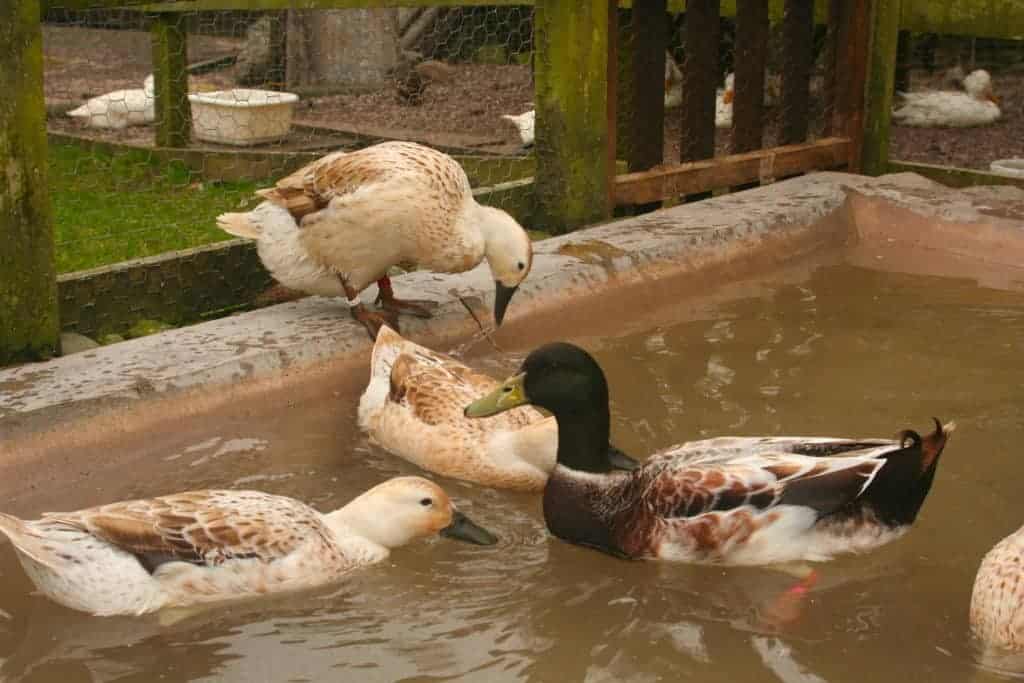 There is a lot of time and money involved in building a pen so time spent at the planning stage is time well spent. We advise newcomers to visit some waterfowl breeders to look at their fencing before embarking on an extensive construction. How you fence your birds is largely going to depend on what you want out of your collection. Are you planning a carefully controlled breeding unit for show birds? Maybe you want a ready supply of eggs for the family and premier slug control for the vegetables, or perhaps the home garden is carefully manicured and in need of a feathered element. There are different solutions for all these options.
There are many types of poultry fencing and netting to consider. Their suitability is governed by the type of waterfowl to be kept in, predators you wish to keep out, whether birds are shut in at night or not, the size and location of the pen and of course, your budget. It is common practice to shut domestic ducks and geese in at night. Most are easily trained to follow the feed bucket and will soon get into the habit of going into their houses. However, they are not as obliging as chickens when it comes to bedtime. Their ancestors would have taken to roosting on open water rather than in trees, so their innate behaviour isn't on our side. You can guarantee that the night you are running late for a supper engagement will be the one when they are challenging! Overnight housing means an extra level of protection. You will still need fencing around the perimeter to safeguard the birds during the daytime though.
Wildfowl, the ornamental undomesticated species we see from all over the world, need to be treated slightly differently. A few may tolerate being shut in, but on the whole they are better left unhoused. Secure fencing 2 metres tall is needed all the way round the enclosure. The foot needs to be dug in and there should be an outwards overhang at the top.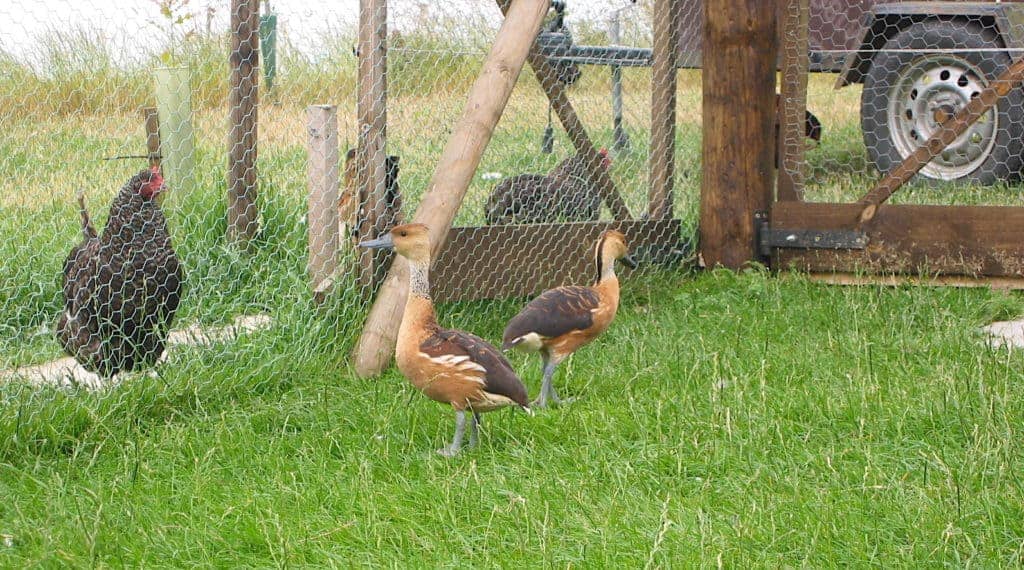 Poultry or rabbit netting is available in various heights, mesh sizes and thicknesses to suit all budgets and it is therefore the most commonly used material. However, hex netting does not have the longevity and durability of hi-tensile fencing, weld mesh or chain link and if it is not installed properly it is prone to sagging. The choice of a heavy-gauge will ensure fencing lasts longer and looks nicer. In terms of mesh size, 25 mm offers a good choice to keep both waterfowl in and predators out but it may only be necessary to use this on the lower level, with a lighter gauge for the top half. Whatever mesh you choose, having a good tight installation is vital for longevity, appearance and also safety.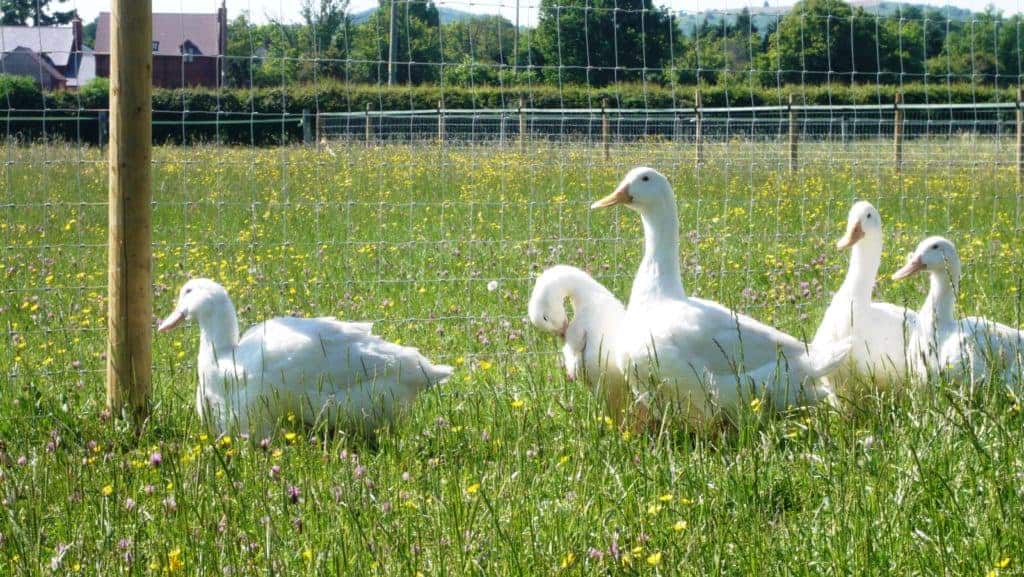 Hi-tensile poultry fencing is designed for the free-range poultry market and has optimum stay and line wire spacing for bird safety and welfare. Despite being more expensive at the outset than traditional poultry netting it is durable, long lasting and easy to install. One of its main advantages is that it retains its shape, therefore always looks smart. It is especially suited where other livestock are present or where there is the need to tie in with other livestock fencing. The line and wire spacing at the bottom of this fencing is not small enough to keep ducklings in or to keep predators like mink and weasels out.
Weld mesh is a good option for permanent fencing as it will last for years. Although it requires fewer posts than hex netting, it is more expensive at the outset. Weld mesh will stand up particularly well to predators such as badgers and dogs. For absolute security 12 gauge 25 mm mesh is recommended but if smaller vermin are not a problem then 50 mm mesh is adequate. Weld mesh is a good choice for use in construction of aviaries and smaller pens.
Chain link offers a strong and robust option for those who wish to fence the exterior of their whole property or create very large pens. In the long term it provides a secure, low-maintenance and a cheap option although it can be cumbersome to install. Choice of a heavy-gauge, 50 mm mesh is recommended to provide a secure boundary; however, it must be combined with a smaller mesh wire at the bottom to keep your bird heads in and predators out! The supporting posts can be wood, metal or less attractive, but more durable, concrete.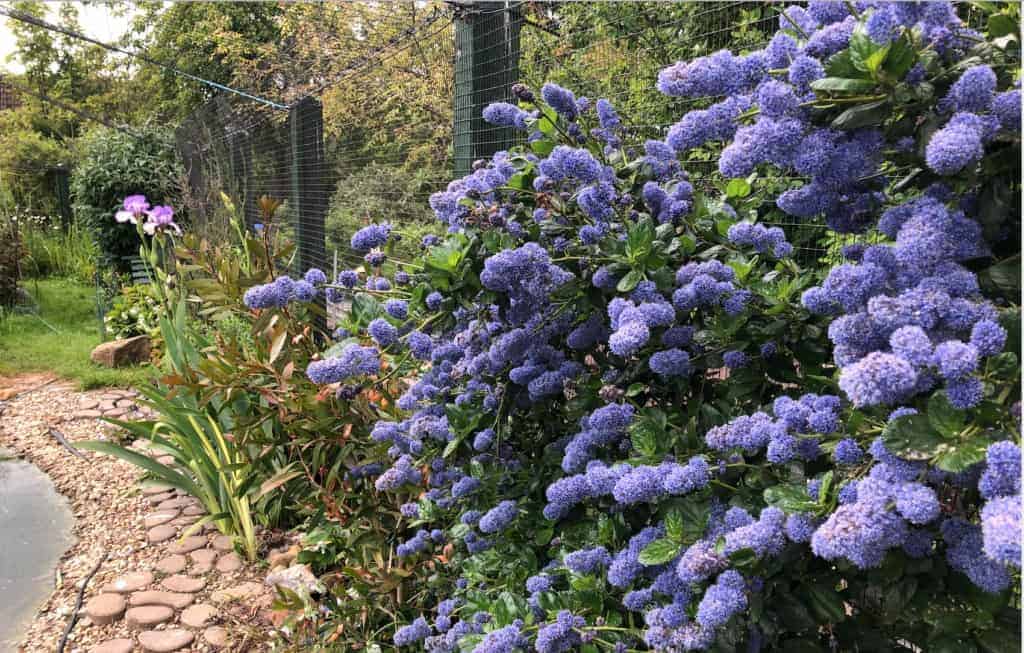 There are some products available with coloured coatings if appearance is important – green, brown and black being the most popular. Aviaries are usually constructed with the intention of viewing the occupants. Matt black is the usual finish, being the least obtrusive. This is also true of being inside looking out. A black mesh give less impression of containment. Black waterproofing paint is easily applied with a roller, but put newspapers or dustsheets down to stop the spatter falling on the ground. Posts need to be protected from the elements and particularly the area just below the surface. Above ground, these too look less obtrusive if they are a dark colour.
Electric poultry netting offers a versatile fencing solution that is relatively cheap and easy to install. However, both ducks and geese are prone to sticking their heads through, getting stuck or tangled in this type of fencing. They can also get tangled in it if panicked which can result in serious injury or death. It is, therefore, not recommended for waterfowl.
If you intend to let your birds wander the garden during the day and then to shut them in a shed at night, a fence 1.2 m (4ft) in height will keep in most domestic waterfowl with the exception of call and bantam ducks that are not wing clipped or pinioned. In the breeding season these females are prone to flying out to lay eggs elsewhere and once broody may well be lost to predators.
The drawback to this husbandry system is the need to shut up the birds before dark and never to miss an evening. The fox checks on you every night!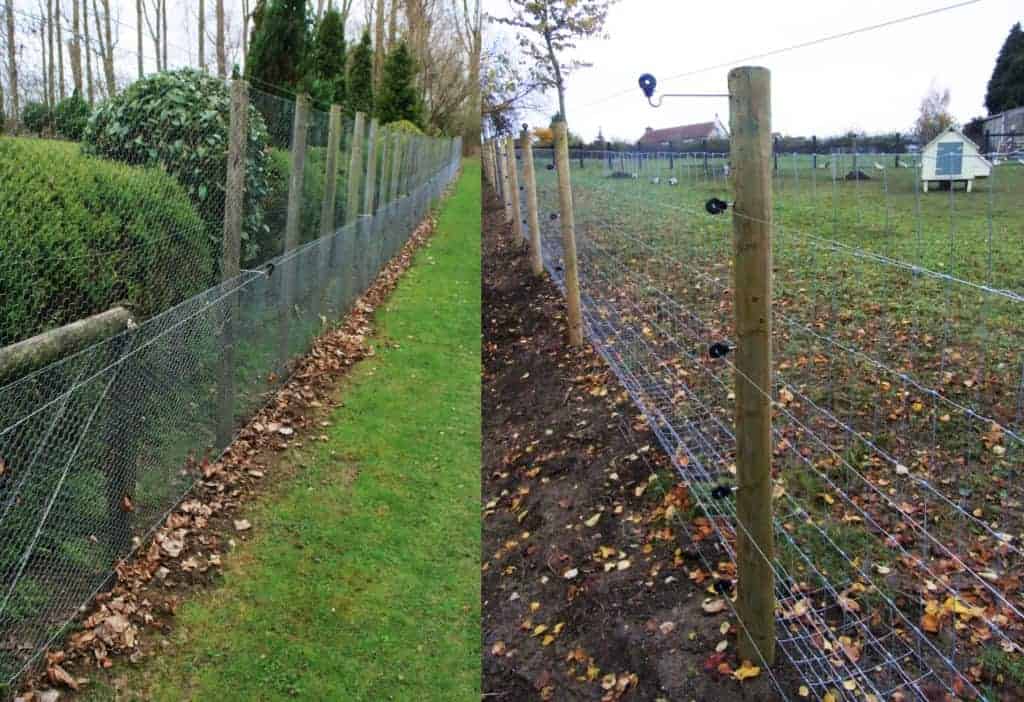 Foxes, badgers, cats and dogs are the most common creatures to try to scale a fence to get to confined waterfowl – the fox being the most persistent and destructive. Small predators, like rats, mink, stoats and weasels, will often get in but can be dealt with by trapping. If you wish to keep small ground predators out, to keep ducklings in or to prevent adult birds poking their head through then 25 mm poultry/rabbit netting will be required for the lower level. This can be combined with 50 mm poultry netting above or used in addition to other more robust fencing choices. It is advisable to bury at least 300 mm of this wire into the ground to prevent foxes or badgers digging under your fence and for a further 60 cm to be carried up the fence. If it is not possible to dig down the wire can be turned out and pegged firmly; either laying it on the ground near the surface and covering with turf, or covering with soil for the grass to grow through. This will also prevent birds escaping under the wire. It will not prevent a badger digging through and you will need to be vigilant for signs of other digging.
If constructing a fence with an overhang, electric fencing or wire mesh are equally effective materials. If using mesh, it should deliberately be left floppy as this is more difficult for foxes to scale.
The addition of electrified wire outside the fence is nowadays considered essential, but you should always ensure that the electric wires are properly insulated from the main structure of the fence. Two strands at low level and one at the top would be a minimum. The presence of electric fencing should be placarded. 
Systems powered by a 12 volt car battery and energizer, sited near the fence, are simple and easy to maintain. You can add a solar charger to this system to top up power on a daily basis but most small solar panels will only be sufficient to prolong the time between battery charges. If using the mains supply, don't forget a backup system will be required for when the power is down. Whichever system you choose  without a good earth rod the fence will not operate properly. 300 mm stakes provided in most electric fencing packs are not sufficient, a 1 metre earth rod driven into the soil is recommended.
It is always advisable to test and run an electric fencing system for a couple of days before you place any valuable birds in the pen for the first time, thereafter the fence should be routinely checked to ensure it is working efficiently. Small testers are available for this which show the charge being sent out and indicate its power; in addition a small light can be linked to the wire at an easily visible point, which will flash with each pulse of the fence. It is important to control surrounding vegetation to stop short circuiting of the system.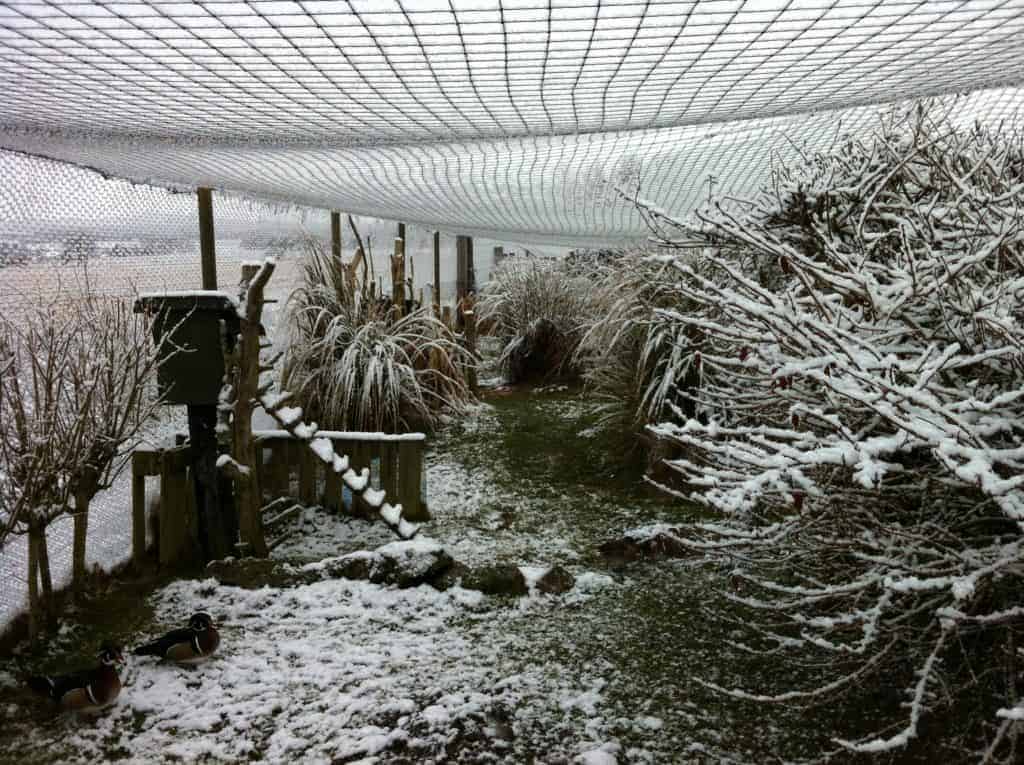 Entranceways to the pen should be well sited for ease of access and avoid wet areas. It is advisable to have a wood or concrete sill between any gateposts to deter predators from digging through at this vulnerable point. Gates and doors opening towards you are a good idea if there is any possibility of snowfall blocking access. You cannot dig your way in if it opens inwards! Don't forget that putting up a good fence and leaving an easy climbing frame such as the gate or the branch of a tree is a big mistake, try to think like a fox and ask yourself how you would get in. It might save you trouble in the end.
Good fencing is costly, but it is money well spent.