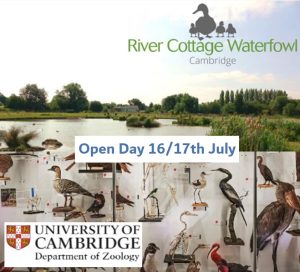 Day 1: River Cottage Waterfowl, Cambridge
Stephen Breith and Helen Evans invite BWA members to their home on the River Cam. Once a small wildlife area for frogs and water plants, it now accommodates an ever-growing waterfowl collection.
10:30 Arrival - welcome - tea and coffee
Hosts' introduction and guided duckery tour
Roam the grounds
Lunch, provided by the hosts
Guest speaker from Garvo
Raffle
Depart by 16:00
We will have our evening meal at The Red Lion, Cherry Hinton, Cambridge, CB1 9JP. Click below for the evening menu. The deadline for meal choices is 30th June.
Open Day Meal - Two Course
£22.00
Day 2: University of Cambridge - Department of Zoology
Short lecture by Dr Daniel Field, Curator of the Museum of Zoology, followed by a tour of the museum.
Let us know if you would like to attend, remember this is a ticket-only event.